Solar Heating with SAM
Solar Air Modules (SAM) are modular solar air collectors (more commonly known as solar heating systems), which have proved themselves to be very effective for solar heat contribution during the colder months of the year. Not only does SAM contribute directly towards heating by adding up to 45 degrees to the temperature of the outside ambient air on cold sunny days – the fresh dry air supplied by the collector also reduces the amount of moisture accumulated in the house. This in turn makes the house feel warmer – and increases the efficiency of other heating systems.In summary, SAM helps reduce your heating bill in multiple ways: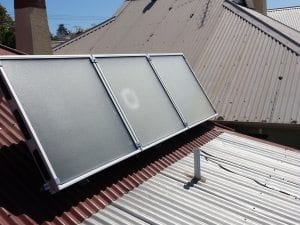 Directly contributing solar heat to your home,
Reduces moisture levels in the house, therefore;

Increasing the impact of other heat sources and,
Reducing the comfort temperature.
SAM also offers a solution for anybody with problems relating to condensation, air quality, mould & mildew, or other humidity related issues.
SAM is used in a variety of applications including:
Solar drying rooms, indoor pools, solar heating, new homes, sub-floor ventilation, in-ground cooling, mould & mildew prevention, de-humidification, interior ventilation and more!
Energy-Efficient Solar Heating
Using our SAM Systems, we enable Australian homes to become more energy-efficient and live a greener, healthier life. Solar heating should be a part of every sustainable house in Australia – not only to contribute towards heating but also to ensure a healthy indoor climate. Indoor air quality and climate is often overlooked when building new energy-efficient homes. Lack of ventilation may result in poor indoor air quality which can present itself in the form of condensation on windows. This leaves you with the need to reduce dampness and moisture content in the house in order to prevent mould and mildew from developing. Our solar heating and ventilation system will (cost) effectively address these issues.
Health Benefits
Australia has one of the highest asthma rates in the world, with more than two million Australians affected. SAM will help establish a healthy indoor environment with low allergen levels by reducing the level of contaminants that trigger asthma and other allergies.
For a drier, fresher, healthier and more enjoyable living environment, tap into nature and choose SAM for your home and your family! SAM is available for do-it-yourself installations or can be installed professionally. If you're looking for an energy-efficient heating system offering a comfortable indoor climate and environment, then SAM is for you!
Basic SAM – Solar Heating System Specs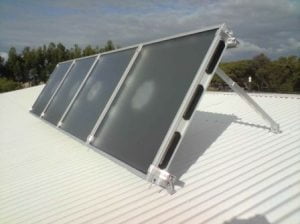 The SAM Solar Collectors are approximately 1000mm long X 1000mm high X 100mm deep. The frames are made from aluminium with a 4mm Safety Glass tempered and patterned front. The inside of the backing plate is painted black to maximize heat collection. The backing plate has a series of 2mm holes that allows the fresh air to be drawn into the solar collector and filtered.
Depending on the number of Solar Air Modules and the application, the warm dry air from the SAM system may be transferred into the house either by an 8 or 16-watt fan powered by an 18 watt or 35 Watt  PV Panel.
How SAM Solar Heating System Works
The sun heats the air, as it is drawn through the solar air collectors by the solar-powered fan. The fan is available in two variations: 8-watt or 16-watt – requiring one 18-watt or one 35-watt PV panel to power it effectively. The warm air is then ducted into the house through a ceiling vent. The solar collectors are designed to be modular, so you add as many collectors as the job requires. A good rule of thumb is a minimum of 3 solar collectors for a significant solar heat contribution in 100 square meters of space. If you are using multiple collectors you chose the best-placed module for the outlet, leaving the remaining outlet cover plates in place on the other collectors. The solar heat collectors are mounted on the roof or an external wall via a specially designed rail mounting system. The optimum angle for the collectors in the southern states is around 55 degrees.