Solar Air Module Installation
Moruya Medical Centre (Moruya, NSW)
Supplied and installed by our Moruya dealer:
Stuart Scobie of EUROBODALLA SUSTAINABLE DEVICES, 2012
2012 saw the construction of a purpose-built Medical Center in Moruya, South Coast NSW to relocate one of the two existing medical practices. This building was designed to house seven or more GP's and related facilities. Within the client's scope of works was the desire to minimise the energy consumption of this new building knowing that it would inevitably include multiple air conditioning units for a variety of purposes.
As a result, Eurobodalla Sustainable Devices was brought in to design and install multiple solar heating and cooling systems to mitigate the likely energy requirements of that air conditioning system. SAM and Solar Whiz combinations were selected as the most appropriate solutions due to their proven efficiency outcomes in other installations on the South Coast. Two banks of 4 SAM panels and corresponding Solar Whiz units were installed in two patient waiting areas in the building to provide both heating and cooling outcomes during daylight hours depending on the season.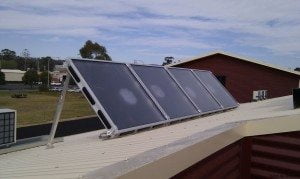 A diffuser inlet was located on the wall of each area for heating with a strategically placed extraction outlet placed in the ceiling a number of meters away in the area to maximise efficiency and create positive airflow. One of the great side benefits of this system is the bringing in of de-humidified, filtered hot air which generates a fresher non-stale smell in comparison to a straight air-conditioned solution. These units are controlled by analogue thermostats in the waiting areas and are expected to alleviate the overall energy consumption of the air conditioning by a substantial factor annually.