Drying is a Breeze with a Solar Drying Room
By ducting the warm air from a SAM air heater into a small room/cupboard, such as a laundry or dedicated drying room, you can set up your own solar clothes dryer. Because of the air from the SAM units is heated and has a low relative humidity content, it will dry clothes by absorbing the water when passing the wet clothes on a cloth line.
This link shows the performance of our SAM Solar Ventilation System – including the relative humidity of the air supplied from the system, which, when combined with the heat, turns our solar air heater into an efficient drying system.
In order to effectively remove the moisture evaporated from the clothes – an additional fan should be installed to provide cross flow (ideally diagonally) through the drying space and remove the moist air from the drying room. For drying applications, exhaust fans should always be used for effective drying – even in smaller spaces like when creating a solar drying cupboard.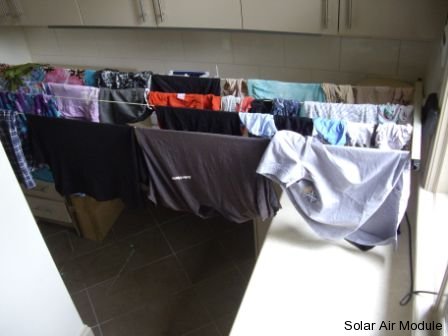 Benefits of the SAM Drying Cupboard/Room:

Free to run

Reduces the need for 

conventional dryers

Reduces electricity bills

Suitable for walk in robes

No need to worry about weather forecasts
Have a read of our SAM- Drying Room Flyer for more information.
Drying cupboards are an extremely effective mode of moisture removal in clothes. They keep your clothes fresh and allow you to reduce your electricity bill in the process. A drying cupboard has no running costs and you don't need to worry about the weather forecasts.